0
Glutenfreies Brot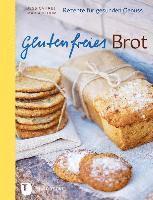 Photo: Filippa Tredal
Glutenfreies Brot ist eine gesunde Alternative zu Weizen- und Roggenmischbroten und schmeckt richtig lecker. Dass das wirklich stimmt, zeigen die Autorinnen eindrucksvoll und in einer schier unglaublichen Vielfalt köstlichen Gebäcks von salzig bis süß. Ergänzt werden die Brotrezepte durch schmackhafte Aufstriche und Beilagen – natürlich ebenfalls garantiert glutenfrei. Und das Besondere: Verwendet werden keine Mehlmischungen, sondern der einzigartige Geschmack des jeweils verwendeten Korns steht im Mittelpunkt. Probieren Sie Buchweizen, Maismehl und Co. und lassen Sie sich überzeugen!
Unfortunately, we have detected some errors in the German translation. This is the errors that we found in the german translation and the proper amount:
Page 30: 30 grams of chia seeds, should be 10 grams.
Page 33: 160 g weizmehl, but of course it is wrong, it should be 160 g bushweizmehl.
Page 37: 50 g gojibeeren, it should be 25 grams.
Page 42: of VORTEIG 2, you must also add 100 g of cold water to the dough.
Page 46: There are 50 g buchweizenflocken, should only be 25 grams.
Page 82: There are 700 g haferflocken, but it just should be 70 grams.
Page 111: It says 100 grams of milk, but it should be 500 g.